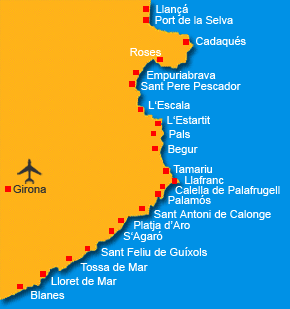 La Costa Brava
300 sunny days a year: summer average 30 ° C and winter 16 ° C
The Costa Brava is located in the northeastern corner of Spain, near the French border. This coastline is 214 km and is located in the province of Gerona. The Costa Brava runs from the French border to the mouth of the La Tordera River, where the Costa del Maresme begins in Barcelona.
"Brava" means "rough" or "wild" where waves break on the rocks. In this environment we have cliffs and hidden coves surrounded by greenery that are only accessible on the Mediterranean or coastal paths.
Until the arrival of tourism, there were small fishing villages and farmers. In the early twentieth century, the region's natural beauty, attracted several artists and writers such as Marc Chagall, Picasso, Dali or Rusinol.
In 1930, the first tourists arrived at the farmers and fishermen in the traditional houses. Since 1950 came the first European tourists.
Around the year 1960 there was a great urban development in places like Tossa de Mar and Lloret de Mar, where the sandy beaches are located. While other beaches or places that have a rugged coastline retain their traditional values.
Among these picturesque places is Cadaques, a small fishing village in the northern part of the coast, 32 km from the French border. Salvador Dalí lived here with his wife Gala. You can still visit his house. When we drive through the charming fishing port, we see that it is almost intact, as Dalí's paintings show. The village is isolated, perhaps this is one of the reasons why it has preserved its originality. To get there, you have to make a long journey through winding roads of a large mountain range.